Port of Cebu Crew Change Protocol - Seafarers Crew Replacement Guide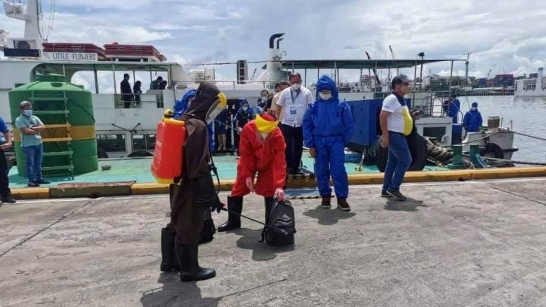 Department of Transportation (DOTr) Crew Change Protocol of Port of Cebu in Response to COVID-19 dated 13 October 2020
The Crew Change Protocol of Port of Cebu is based on the guidelines prescribed under the International Maritime Organization (IMO) Circ. Letter No. 4204/Add.14 "Recommended framework of protocols for ensuring safe ship crew changes and travel during the COVID-19 Pandemic". It covers the Procedures for Seafarers Leaving a Ship (Off-signers) as presented in Figure 1 and Procedures for Seafarers Joining a Ship (On-signers) in Figure 2. To ensure the seamless and secured movements relative to crew changes, the PCG shall closely monitor the activities of the Shipping Agents, Licensed Manning Agencies (LMAs) and the seafarers. A vehicle provided by the shipping agent/LMAs shall also be used to transport the seafarers using a strict Point-to-Point Scheme.
Link to Download Copy: https://drive.google.com/file/d/1Y2vBcwA_V6YBCXwZ3sNuo67HkxSVgDe3/view?usp=sharing
Province of Cebu Office of the Governor Executive Order No. 27 Series of 2020 re Providing for the Protocols and Guidelines to be observed by Seafarers for their entry into the Province of Cebu, congruent with the Philippine Green Lane established for the speedy and safe travel of Seafarers under Joint Circular No. 1, Series of 2020 dated 14 October 2020
Department of Transportation (DOTr) Memorandum re Start of Crew Change Operations of Port of Cebu dated 15 October 2020
Pursuant to Joint Circular No. 1 series of 2020, IATF Resolution No. 53, and NTF Order No. 2020-03, Port of Cebu is hereby activated as a crew change hub. Operations shall start effective Friday, 15 October 2020. Relative thereto, the Crew Change Protocol of Cebu and the tasks and responsibilities of One-Stop Shop (OSS) Cebu are attached in this memorandum for implementation. Please ensure that the sufficient manning complement required by the OSS must be provided for the smooth operations of the crew change hub.
Philippine Green Lane One-Stop Shop (OSS) for Seafarers Organizational Structure
- One-Stop Shop (OSS) for Seafarers Organizational Structure
- One-Stop Shop for Seafarers Cebu (OSS Cebu) Organization
- DOTr-Management of Returning Overseas Filipinos (DOTr-MROF)
- Customs, Immigration and Quarantine (BOC, BI and BOQ)
- COVID-19 Testing (OSS Cebu c/o PRC)
- Facility-based Quarantine (OWWA/PCG)
- Seafarers Affairs (OWWA/MARINA/DFA)
- Facilities and Logistics
Related Seafarer Crew Change Information:
Port of Capinpin, Orion Bataan Philippines - First Crew Change For Seafarers During COVID 19
How To Get BOQ Quarantine Certificate Online - For OFW & Arriving Filipinos Step By Step Video Guide